Miami-based event planner and stylist, Adriana Cadet, owner of The Creative's Loft, turned her talents on a special event for her own growing family. Appropriately named her "4 in 1 Creative Party" because this one celebration marked 4 fabulous occasions: House warming party, wedding anniversary, belated birthday and baby Hugo's baby shower! Scroll down to read more and see the photo story shot by Brandi Toole.
Vendors began showing up at the home at 7am, starting with Boxxed Events, who parked a photo booth truck in the backyard so Baby Hugo can look back one day on the coolest photo booth pics taken of friends and family who love him!
Pretty Tables provided all the elements for creating these appealing tablescapes: The napkins, forest-green water goblets and copper mugs.
Primrose Florals arranged the floral décor so that it reflected the dark greens, whites and warm browns of the natural setting and the furniture. It all came together cohesively for a warm, cozy and inviting country rustic feel. The backyard lighting was designed by Illumene as the event spilled over into the evening.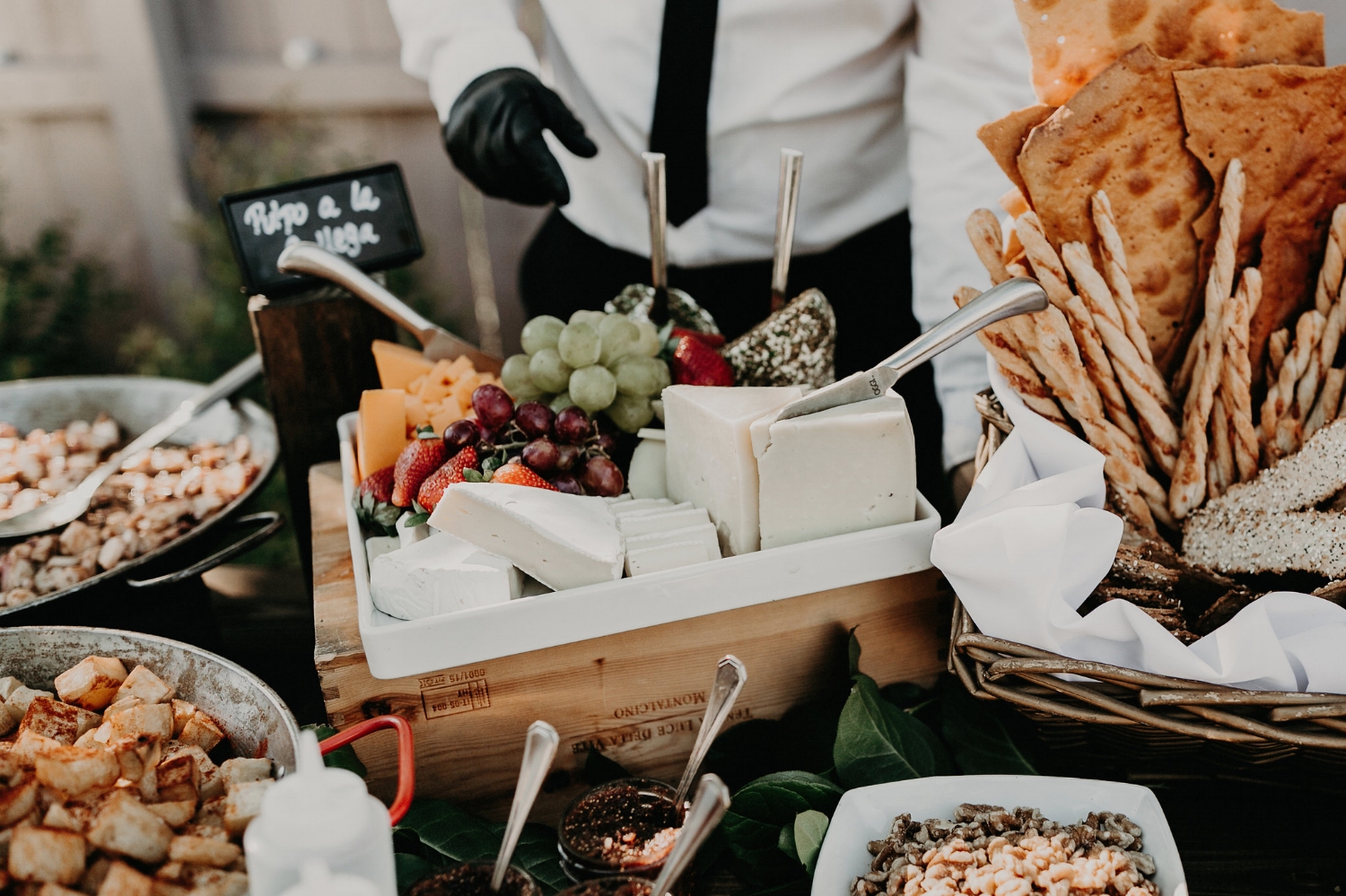 Catering and beverages were provided by Thierry Isambert Culinary and Event Design. Three waiters, a bartender and 2 chefs made sure everything was flawless.
The chic lunch display included "It's All About Cheese," an array of cheeses with a sumptuous display of fruits, dried fruits, nuts, crackers and artisanal breads.
"Adri's Small Bites CRAVING Station" was a fun take on pregnancy cravings, featuring an eclectic selection of favorite comfort foods like Patatas Bravas, Torta Espanola, Croqueta Lolipops, Sliders, Phyllo Brie Squares, Pan Tumaca and Gazpacho Shots to name a few.
Entertainment was provided by Flamenco guitarist, Rodrigo Valdez and his crew who wowed guests with their melodies, and Hen Siso, who took the party after dusk with her cool tunes.
Baby Showers are a beautiful milestone occasion, a true celebration of LOVE and LIFE. Many people don't realise that although gifts are welcome (of course,) a baby shower is really a meaningful ritual that gathers family and closest friends in a show of support, honoring the parents and defining the community a new baby is being welcomed into. Moms, BFFs and sisters can have a lot of fun with the theme and the décor too! Check out this amazing Vintage Travel Themed Baby Shower here, and Christi & Peter's Backyard Boho Baby Shower here.
Click here to see this gorgeous event featured on the 100 Layered Cakelet blog.
Contact us here for more info about catering your dream baby shower.