Marley's Bat Mitzvah was an epic celebration at the Temple House, one of Miami's premier venues for private events. The Temple House's video mapping system immerses guests in stunning 360 degree projection mapping, creating incredible, customized visual experiences. For Marley, in addition to spectacular moving graphics, a video montage of her was mapped on the walls, along with a live stream of the kids dancing.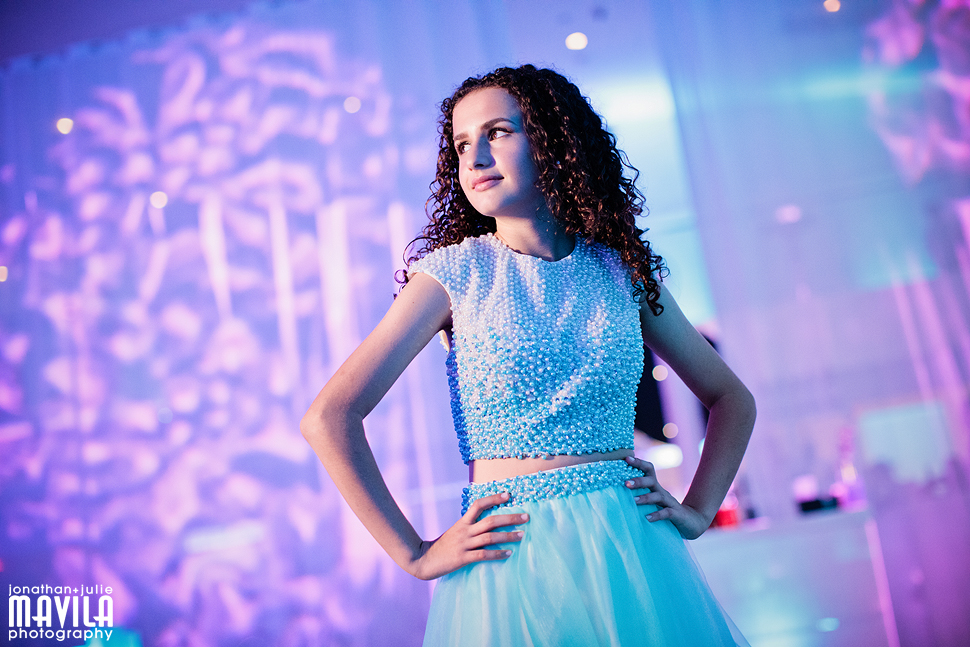 Venue: The Temple House | Catering: Thierry Isambert Culinary and Event Design | Flowers: Roses & Pivoines | Pillar Candles: Illumene | Entertainment: Celebrity Entertainment | Digital Mapping: United Projection | LED Robots with Laser Guns: NytroMan Group
We were asked to design a menu that was plentiful and varied, so guests got to broaden their culinary horizons with our interactive food stations featuring cuisine from around the world!
Adults enjoyed delicate passed hors d'oeuvres such as Phyllo Brie Cranberry Ginger Tapenade or Thai Chicken with Coconut Chile Sauce, to name a few. Teen cocktail stations featured gourmet versions of kids' favorite comfort foods such as Mini Quesadillas and Popcorn Chicken with dipping sauces. Meat, vegetarian, and sometimes vegan options were created for every station, so nobody was left out due to dietary restrictions.
From the Little Italy Station featuring a pasta bar with homemade sauces, pizza and Caprese salads, to Greek-themed mediterranean fare, a Chic Slider bar, Thierry's Taqueria Bar and an Asian Station serving an array of homemade Dim Sum and Asian Vegetable stir fry, guests toured the world via delectable plates of authentic international cuisine.
After 10pm, the adults enjoyed our passed desserts, and kids LOVED the interactive S'MORES station and Nitro Ice Cream & Sorbet station. Freshly made Cotton Candy spun onto purple and blue glow sticks was a fun end to a gourmet celebration and matched the color theme of the evening.
It's always a pleasure working with: The Temple House, Illumene, Roses and Pivoines, Celebrity Entertainment and NytroMan Group. Thanks to MAVILA PHOTOGRAPHY for the photos!
Marley's custom logo monogram was integrated into the decor, and applied to napkins and candy boxes.
The Greek Station: Mini Chicken, Beef & Vegetarian Kebabs, Served with Tzatziki, Mint Sauce, and a Roasted Red Pepper Sauce