The tastes of India are on the minds of many people! We receive frequent requests for traditional and modern Indian cuisine for social and corporate events. In fact, many foodie influencers predict that modern Indian cuisine will be one of the big food trends of 2018. The UK's Waitrose Food & Drink Report for 2018 lists Indian Street food as one of the top 5 food industry trends for the coming year.
Event planner, David Johnson, recently went on air with jimmy Cefalo, to discuss the Indian menu for the Holy Cross gala, and he aptly described Indian cuisine as "...healthy, colorful and flavorful," adding that "the aroma is incredible, and It also happens to be gluten-free!" You can read about that gala and watch the interview here.
Spinach, Cheese, Peas, Mint Cilantro Sauce
The staff at Thierry Isambert Culinary and Event Design represents diverse cultures and nationalities. Thierry Isambert travels extensively himself, bringing home tastes and flavors of other cultures which positively impacts our creative menu proposals. The result is that one of the things we are known for is our authentic international cuisine.
Speaking of an international staff: Chef Anthoni Doss Ramesh hails from Chennai in Southern India. Clients love the fresh Naan he prepares in the Tandoor Oven.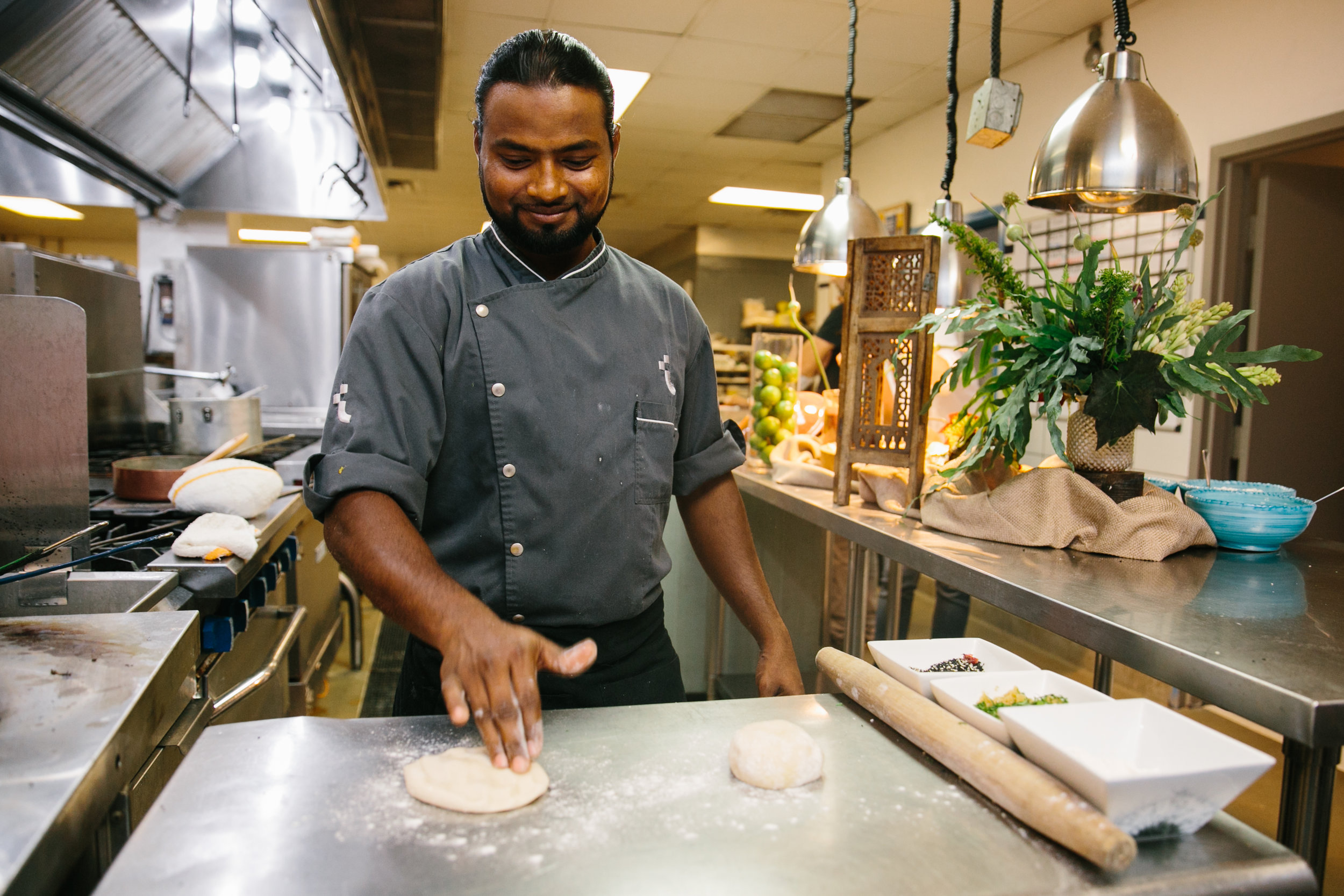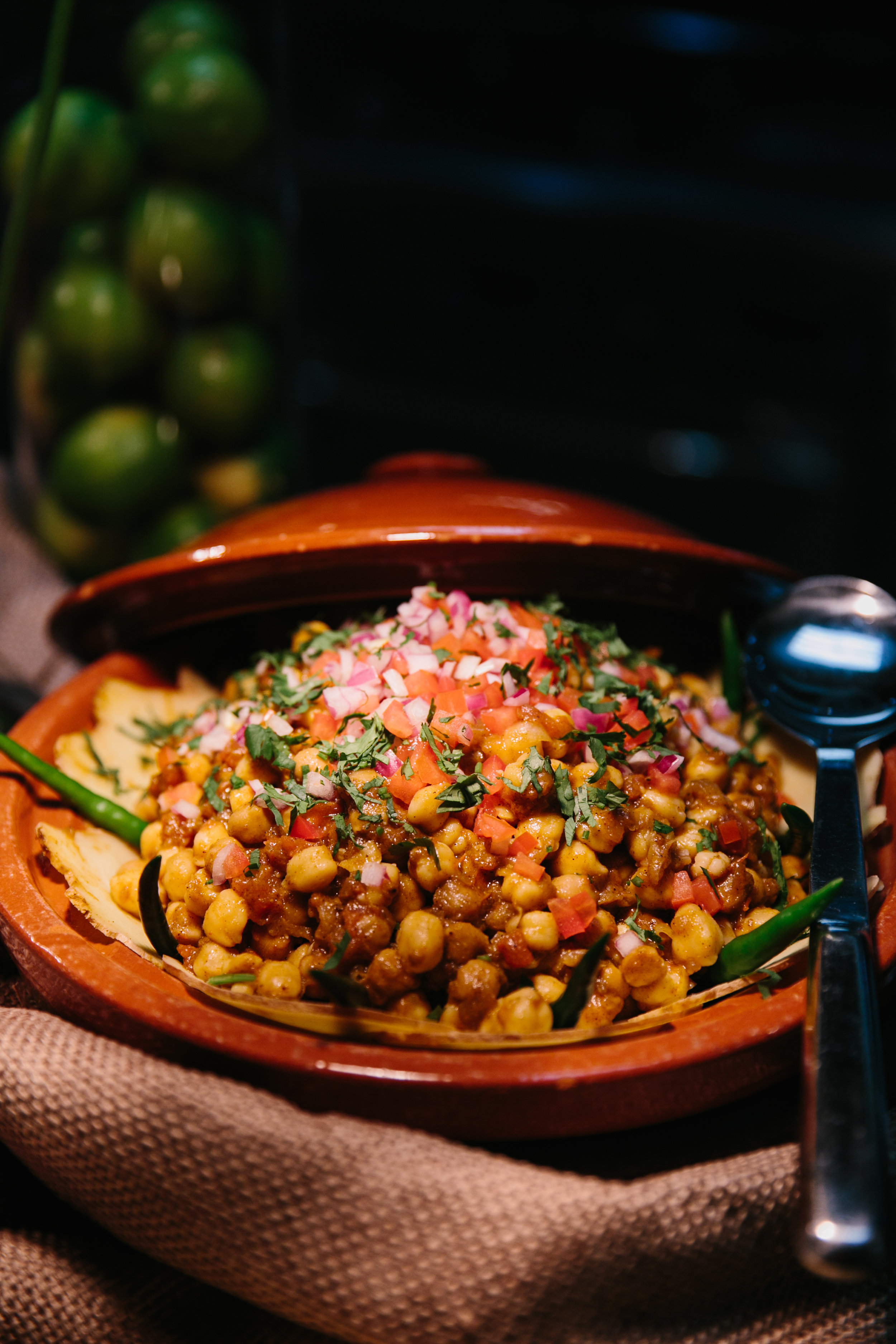 Chickpeas & Tomatoes with Garlic, Ginger, Onion, Chiles & Traditional Indian Spices like Cumin, Garam Masala, Coriander, and Turmeric.
When Indian menus are requested for events, the reasons vary; sometimes people simply love Indian cuisine, but often we cater Indian or multicultural weddings, or events where some or even all of the guests hail from India. There is also a trend for themed parties and galas, including Bollywood themes or "Epicurean Escapades," such as the recent Holy Cross Hospital Gala that featured a lavish display of international food stations with an emphasis on the popular Indian station.
Scroll down for a sneak peek into a few stunning events catered by Thierry Isambert...
Indhu & Greg's Wedding at Fairchild Botanic Garden
Indhu and Greg's wedding was a beautiful Indian multicultural wedding that we produced and catered at the Fairchild Tropical Botanic Garden. The wedding was featured in South Asian Bride Magazine and The Knot. (Click HERE to read more.)
An Indian Inter-Faith Wedding at The Ancient Spanish Monastery
This spectacular Indian inter-faith, inter-cultural wedding was set at the magnificent Ancient Spanish Monastery in North Miami. (Click HERE to learn more.)
EXPANSION IN INDIA: THE 21st ANNUAL BEST BUDDIES MIAMI GALA
Best Buddies International celebrated their expansion into India and raised $3 million with the 21st annual Best Buddies Miami Gala. The event planners, Agency BE, organized a sumptuous Indian-inspired decor and requested a combination of Indian street food and Modern Indian cuisine. Seven hundred guests enjoyed craft cocktails from Libations by T.I., a 3-course dinner, live and silent auctions, and a live performance by multi-platinum artist, Iggy Azalea.