Over the past few years we have seen a remarkable rise in requests for innovative vegan dishes. These days, many weddings, social events, corporate events and charitable galas require vegan menu options, and with world famous chefs like Alain Passard and Alain Ducasse transforming their 3-Michelin starred restaurants to predominantly plant based, there is a spotlight on upscale vegan dining, and the result is a plethora of delectable dishes that are irresistible, even to meat-eaters!
In recent years vegan culture has asked more and more from chefs. Vegan menu planning commands precise attention to detail and brings elevated precision to every mouthwatering bite. Ingredients that would typically be camouflaged or used in a secondary role in non-vegan dishes, are the center of focus in a vegan plate.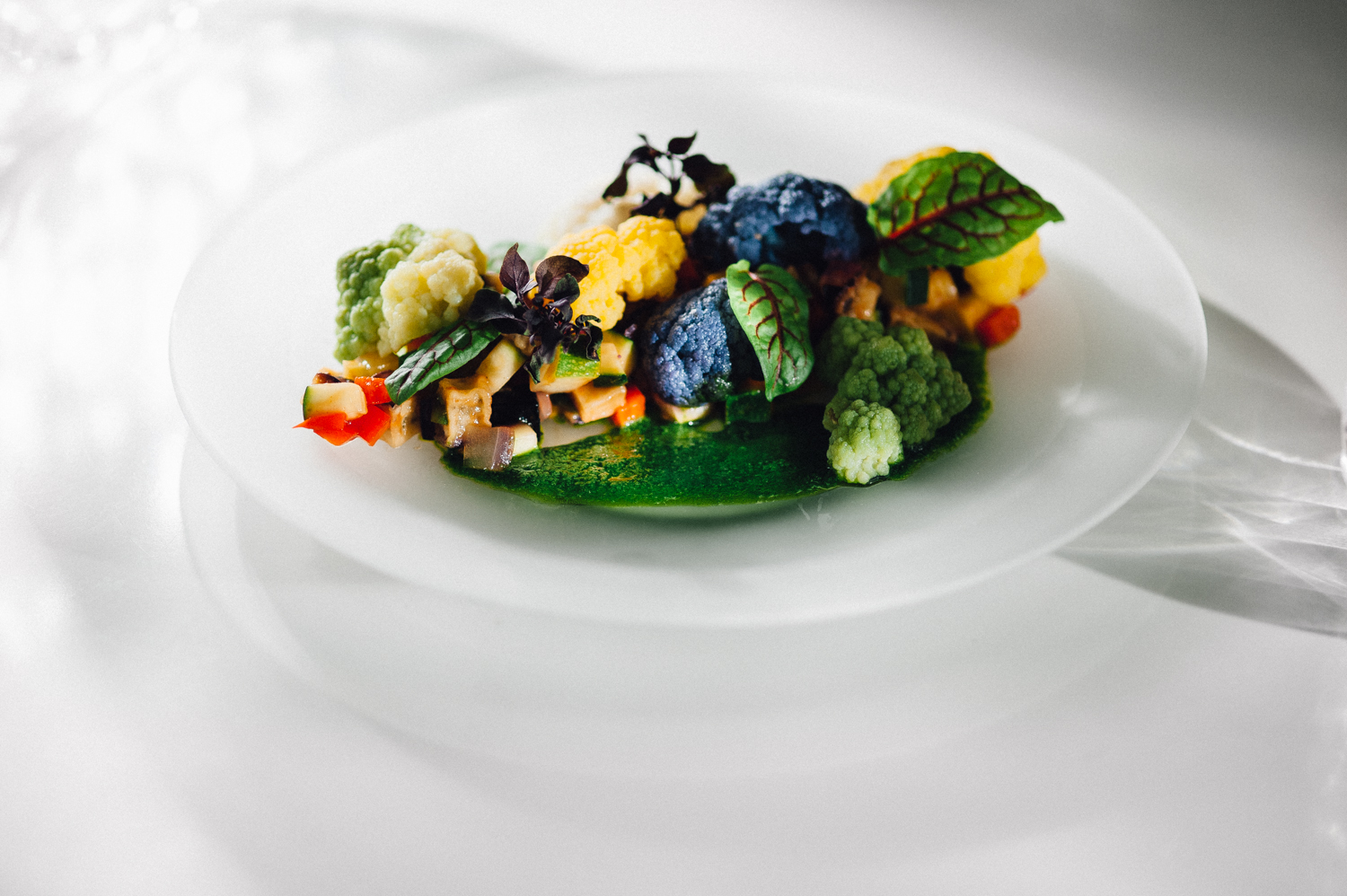 Thierry Isambert's Rainbow Cauliflower Trilogy with Garden Vegetable Caponata in San Manza Tomato Stew & Light Herb Chlorophyl
Chef Michael, our executive sous chef, is no stranger to upscale vegan catering. He served famous vegetarian, Paul McCartney, at the Ritz-Carlton, prior to joining Thierry Isambert's team. McCartney had rented out a whole floor of the hotel for a month before continuing the next phase of his tour. "For the whole month I prepared breakfast, lunch and dinner for Paul McCartney," says Michael, "everything was organic and mostly vegan."
Our vegan clients know that we source the finest ingredients from local suppliers, and they count on us for refined, upscale vegan dishes. Recently, we catered and produced a beautiful baby shower brunch, and it was important to the vegan couple expecting their first child that we fully understood their desire for diverse, original vegan options while also catering for their non-vegan family members.
Chef Anthoni Doss Ramesh presides over the preparation of authentic Indian dishes in Thierry Isambert's commissary.
Along with requests for vegan dining, we've also seen an increase in demand for authentic Indian cuisine, and the two complement each other well. Although many Indian dishes use dairy, it's easy to exclude it, and the herbs and spices that define Indian cuisine provide a whole new approach to cooking plant-based foods, resulting in dishes like Channa Masala, Aloo Tiki Chaat, Dal Vada, and Pani Puri. The beauty of Indian cuisine, in addition to the subtle flavors, is the ability to cater a large event for a combination of vegan and non-vegan diners, with options that please everyone.
"We connect with specialty growers to source unique ingredients and apply creative preparation methods," explains Chef Michael, "resulting in vegan dishes, such as our Beach Mushroom Ceviche with Micro Sea Beans, and Rainbow Cauliflower Trilogy, that not only please the vegan palate but also win over non-vegan diners!"
Caramelized Shallot & Roasted Chestnut Parfait Scented with Lemon Thyme and topped with Asian Pear Brunoise, Butternut Squash Spuma and an English Pea Blossom
Veggie Tartar in Cucumber Cup with a Micro Flower
Behind the scenes: Team T.I. prepping 200 vegan leek & potato soups for a charitable luncheon.