Thierry Isambert Culinary and Event Design is exclusive caterer to the New World Center.
An iconic venue in the heart of Miami Beach, the New World Center is the exquisite result of a collaboration between Pritzker winning architect, Frank Gehry, and Michael Tilson Thomas, 10 time Grammy winner and artistic director of the New World Symphony.
The New World Center's architecture and immersive technology provide deeply impactful experiences, from the arts to private events, conferences, conventions and related activities. Imagine using such a space to invite people to celebrate with you or interact with your business or brand in new and exciting ways.
Scroll down to see each of the spectacular event spaces at the New World Center: The Performance Hall; The Sun Trust Pavilion; The Atrium; The Rooftop Garden; The Donor Lounge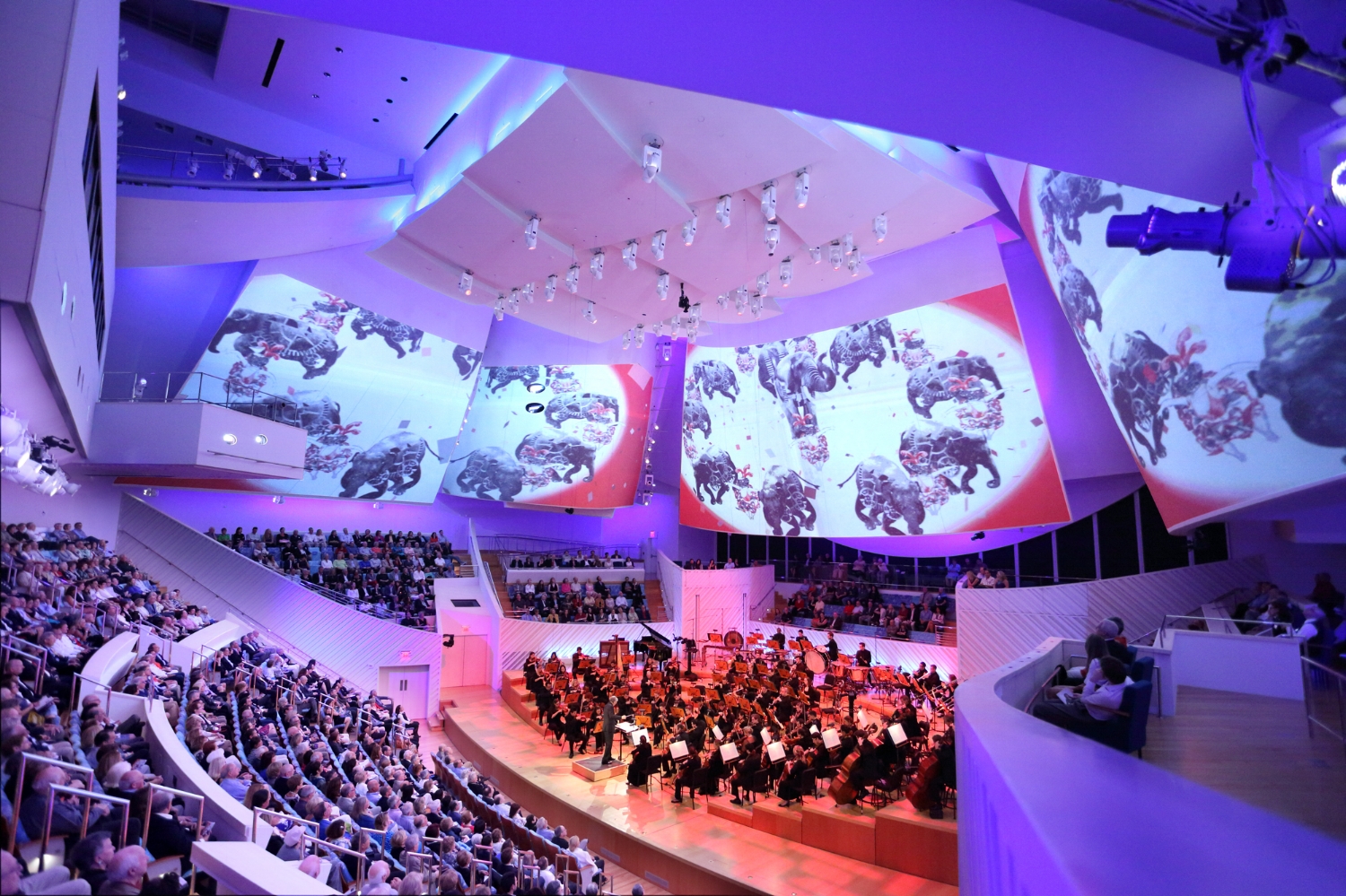 Capacity: 1200 seated with fixed and flat floor seating; 400 seated for dinner on flat floor with retraction; 756 seated in the traditional round concert format.
The Performance Hall is highly configurable and multimedia enabled, and it is renowned for its technical capabilities and acoustic integrity. The myriad of distinctive seating and stage variations remove the boundaries of traditional presentation formats and minimize the distance between the audience and the stage.
The following features can work independently or in-concert to create a unique multisensory environment:
Four ancillary performance platforms fixed at cardinal points in the hall

five architecturally significant projection sails floating overhead

fourteen 30,000 lumens projectors strategically positioned to create an immersive, near-360 degree panoramic video experience

conventional and moving lights for a custom lighting environment

partially retractable seating

temporary rigging points, chain motor system and hide-away flat projection screen (39' x 16') to round out the abundant production options. These elements can work independently or in-concert to create a unique multi-sensory environment.

The stage itself is comprised of 10 electro-mechanical lifts that can be operated independently or as a unit to assume the formation of traditional concert risers, be made flush with the audience floor for up to 2900 square feet of flat event floor (4900 with retracted seating) or other customized configurations.
Capacity: 250 standing; 160 guests seated for dinner; 170 seated theater-style in rows.
This 2,700 sq ft space is designed to accommodate a full orchestra rehearsal or a recording session, the towering SunTrust Pavilion is ideal for corporate presentations, lectures, dinners and receptions, theater-style panel discussions and intimate artistic presentations of musical performances, film screenings and private gallery-style art shows.
When rented on its own, or in conjunction with other spaces, the SunTrust Pavilion takes on new life. It functions as a high-tech breakout space for conferences and annual meetings just as nicely as it converts to an elegant dining space for a private dinner
Unique features include:
A wall of windows facing SoundScape Park

Projection, lighting, audio enhancement, recording, real-time web interaction and live webcasting capabilities.

An elevated viewing platform with separate entrance can also be used as a technical gallery if desired.

22' by 9' projection screen, 30,000 lumens projector, sound reinforcement and temporary rigging capabilities.
The spectacular New World Center atrium features cascading geometric shapes, curved surfaces and a vaulted ceiling with six stories of natural light. The glass backlit bar, which serves as a concession stand run by Thierry Isambert Culinary and Event Design during major events, is central to the atrium. The bar is situated beneath an ocean-inspired titanium canopy designed by famed architect Frank Gehry.
Unique features include:
Theatrical lighting capabilities allow the bar and atrium spaces to be custom-colored to meet client specifications.

Video mapping and corporate logos can be projected onto multiple surfaces.

Multiple fixed 60-inch plasma screens provide branding opportunities or a program feed for onstage events.
Among the many possibilities offered by the Atrium, it is frequently used for cocktail hour before the main event in the performance hall, or cocktails before or after a rooftop wedding ceremony. It also serves as a dining area for large corporate events and galas.
Capacity: 100 seats theater-style, 80 for seated dinner; 100 individuals standing.
The Jane and Gerald Katcher Donor Lounge is a flexible, intimate space that inspires creative conversation. With views of the adjacent rooftop garden, the Donor Lounge is ideal for executive retreats, conference breakout sessions, lunches, dinners and receptions.
Capacity: 250 guests standing or 160 seated
A panoramic vista of Miami Beach from Biscayne Bay to the Atlantic Ocean makes the rooftop garden an ideal location for chic receptions, high-end dinners, private parties and intimate performances.
Unique features include:
Projection of video or corporate logos on the outdoor "cube" and ornamental lighting of the garden can further augment your guest's evening experience.

Custom cut sun sails can be deployed overhead to provide shade for guest comfort during a beautiful brunch or luncheon.

Breathtaking views of the city.

Beautiful SoundScape Park sits just below, leading the eye toward the expansive Atlantic Ocean where on a clear night the moon rises from behind Miami Beach's iconic Art Deco hotels.

Designed by Raymond Jungles with local indigenous flora.

For additional covered space, the adjacent Jane and Gerald Katcher Donor Lounge can also be annexed for any event.
OTHER SPACES
Additional spaces at the New World Center are available for larger events as support or break out rooms, meeting space for executives using virtual connectivity or as unique audio and video recording suites for artists seeking inspiration.
THE CLINTON ROOM
THE ATRIUM TERRACE
Overlooking the atrium lobby and offering dramatic views of the New World Center's signature Gehry architecture and Miami Beach Soundscape Park, the atrium terrace is a unique gathering space. At the behind-the-scenes intersection of the Knight New Media Center and the performance hall production command center, this lofty terrace hovers halfway up the atrium airspace offering a vantage point like no other in the facility.
Capacity: 100 standing and 40 seated in rounds.
ENSEMBLE ROOMS 3 & 4