The BASS is Miami Beach's contemporary art museum, and in addition to enriching the cultural landscape of Miami with long term and permanent exhibitions in its newly renovated galleries, the venue is an extraordinary space for private social and corporate events. With dozens of events on the schedule, it's impossible to recap all of them, but here are a few that made a buzz.
THE BASS BALL
One of the most anticipated events of the year, The BASS Ball attracts Miami's most prominent philanthropists, artists and celebrities for an exceptional event that raises funds to support The Bass's exhibitions and education programs.
SAYING "I DO" AT THE BASS
A BEAUTIFUL OUTDOOR CEREMONY IN COLLINS PARK
It was a perfect December evening for this beautiful wedding ceremony under the stars, with the Bass's iconic facade as a backdrop and Collins Park stretched out behind the Chuppa. Typically, couples opt for the ceremony in the Trudy & Paul Cejas gallery, but this balmy South Florida winter evening was perfect for an outdoor event. This wedding was planned by Solea Events, with floral decor provided by Petal Productions and photos by PS Photo & Film. Click here to see more from this event.
Cultured Magazine & Sevan Bicakci Celebrate Artist, Sheila Hicks
A private luncheon for a select group of guests was hosted at The Bass by Cultured Magazine with Turkish jeweler, Sevan Bicakci, to celebrate the Sheila Hicks exhibition, Campo Abierto. The decor and menu were designed to match Sheila Hicks's main installation, Escalade Beyond Chromatic Lands. The desert was custom designed for the occasion by Thierry Isambert's pastry chef, Bruno LeGros.
BELKEYS NEREY & DEMETRI MOURATIS
CELEBRATE THEIR WEDDING AT THE BASS
7News anchor Belkys Nerey and her fiancé, Demetri Mouratis, celebrated their wedding in style at The BASS. This "Party of the Year" was planned by Jessica Campbell Events, and friends and family arrived from all over the world to witness the outdoor ceremony in front of the museum followed by a night of partying inside. Renowned DJ/Producer, Tracy Young, kept everyone dancing, while Gloria and Emilio Estefan were the first to lead the crowd in a "Conga" line.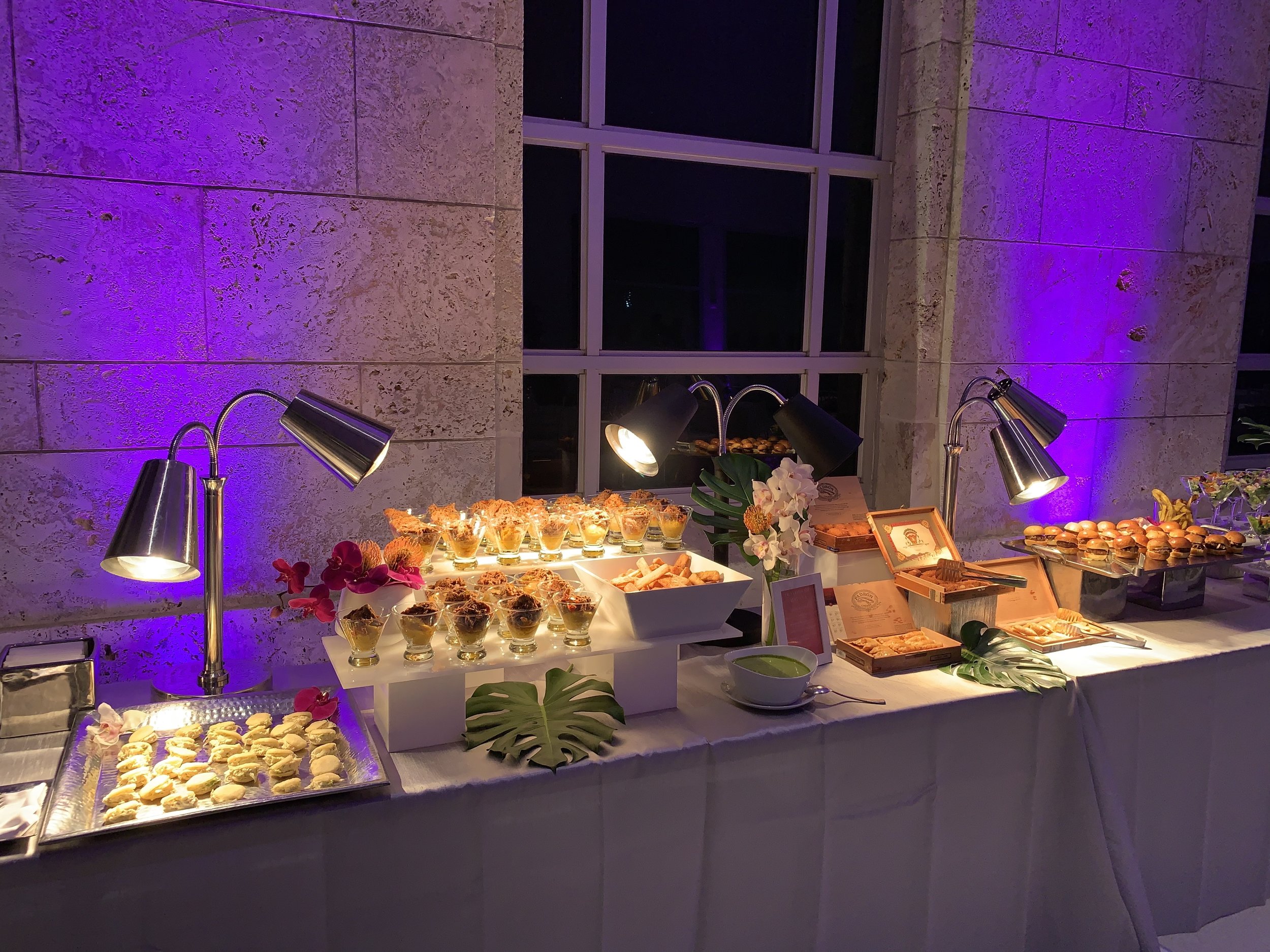 NIGHT AT THE MUSEUM AT THE BASS - 2019
Over 350 guests flocked to The BASS for Night at the Museum, the annual spring fundraiser in support of the museum's education and exhibition programs. A neon jungle awaited guests who enjoyed an "Art in the Wild" themed evening. There was live music and a performance by RICHIE HELL, an immersive installation by Miami-based artist Haiiileen, accompanied by a one-of-a-kind photo experience powered by Capture POD. There were craft cocktails, gourmet delights, interactive activations and exhibitions.
Art Basel Miami Beach 2018:
Chloé Toasts Aaron Curry at the Bass Museum
One of the most talked about private events during Miami Art Week was this intimate dinner at The BASS, hosted by Chloé, a sponsor of Aaron Curry's exhibition, "Tune Yer Head." VIP guests included Bernard Ruiz Picasso, Almine Rech and Ellie Goulding. A private performance by musical artist, Annie Sima, preceded the dinner.
Callebaut® RB1 USA Launch at The Bass
Callebaut launched Ruby (RB1) in the United States with a chef-led event at The BASS. Ruby is a new kind of chocolate born from the Ruby cocoa bean, and it offers chefs countless new pairing opportunities. Delectable items created by chefs, Yann Migault, Rocco Lugrine, Philippe Vancayseele, Nicolas Dutertre, Alan Espinoza, & Russ Thayer, were on display. Cocktails, passed hors d'oeuvres and beverages were served by Thierry Isambert Culinary and Event Design.